A high quality wind speed measuring appliance, useful and indispensable in various activities including climbing. The displayed measurement result is expressed in a few basic units concerning the power and the speed of the wind. The measurement is made by placing the appliance against in the direction of the blowing wind. The battery and the operating manual included with the set.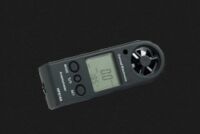 A device used for the measurement of the climbing time. Included as a standard equipment tool of the Wall Be Safe climbing wall. Each climbing track has a separate timing display that provides the operator with the information of the climbing time of each climber. The timer has the function of measuring the time down to zero and signalling when the time limit has been reached.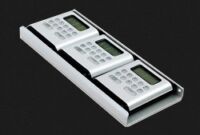 The safest personal karabiner available on the market in the Triplex version, i.e. with the triple safety system. The automatic blockade of the lock completely eliminates the risk of using the karabiner unsecured. The higher safety level has been achieved be the enforcement of an additional lock pulling movement. UIAA approved.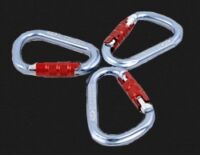 Fully regulated, light hip harness, in one universal size. Great harness for artificial climbing walls and more. The hip belt made of 44 mm wide tape provides maximum safety and proper comfort during the climbing. The strengthened fastening point (of locking the karabiner on) and three "fast" buckles provide a smooth and problem-free use. UIAA approved.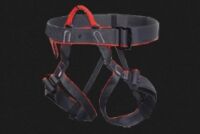 Fully regulated, complete climbing harness for children. The full regulation range makes the harness applicable to children of various weight and height. The thigh loops have been equipped with soft lining that provides proper comfort while climbing. The harness is equipped with four "fast" buckles regulated in one smooth move. UIAA approved.
An appliance used for the automatic wind speed measurement and to signal when the preset safety values are being exceeded. The speed sensor is a spherical cap anemometer connected to a controller (a receiver) with a screened wire. The controller with the controlling module, the LCD display and the programming buttons are housed in a tightly closed casing. The anemometer is powered by a 12V battery mounted on the climbing wall.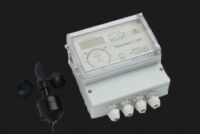 A high quality compressor for pumping car or trailer wheels as well as for supplying the air pressure to the airdraulic systems of the Wall Be Safe climbing wall. Technical data: supply voltage – 12V; power consumption – 10A; maximum pressure – 10bar; capacity – 35 l/min. Equipped with a three-pin plug to connect it to the socket in the tool box mounted to the wall frame.
Contact us!
Use the form below and we will answer your questions!